The RheinMain CongressCenter Wiesbaden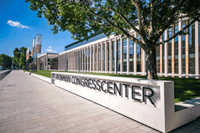 The RheinMain CongressCenter Wiesbaden was opened in 2018. Its flexible room and functional concept offers the perfect setting for exhibitions or congresses such as the PharmaTechnica and the PharmaCongress. Together with the luminous foyer, the North Hall with its 4,600 square metres of exhibition space gives exhibitors at the exhibition plenty of room to present themselves optimally to PharmaCongress delegates and PharmaTechnica visitors.
Wiesbaden Congress & Marketing GmbH
Kurhausplatz 1
65189 Wiesbaden
Standort RheinMain CongressCenter
Friedrich-Ebert-Allee 1
Phone: +49 (0) 611 1729-400
Email: veranstaltungsservice-rmcc@wicm.de
RheinMain CongressCenter website
Arrival
Guests arriving by air from other parts of Germany or from abroad can easily land at Frankfurt Main Airport. From there, the rest of the journey takes just 45 minutes directly to the CongressCenter Wiesbaden. Travellers arriving by car can reach the centre of Wiesbaden from all directions via the nearby exits.
Sufficient parking is available in the immediate vicinity and at the RMCC itself.